Since getting home from BlogHer09 I've managed to unpack and eat/drink most of the food/drink products I brought home. By far the stand outs are Goldfish Grahams Honey & SoBe Apple Pear.
I love the new Goldfish Grahams! They are crispy and oh so yummy. Plus I can eat them with fruit for a wonderful snack & feel filled up.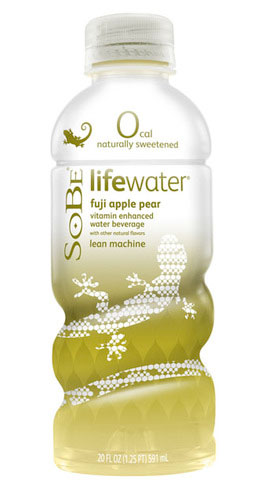 The SoBe Lifewater was new to me as I've never tried any of their products before. It lived up to its name and it tasted exactly like Apples and Pear in a water flavored form. I'm so impressed that I may start buying Lifewater over Gatorade which is my normal choice for a liquid to take to work with me.
I have yet to unpack the 'stuff'' suitcase but I have started going through business cards and sending emails/tweets to those wonderful ladies & gents I met at the conference. I've been enjoying checking out everyone's blogs. I need to get everyone on a blogroll or something so I know when people update now that I have so many new contacts that I want to stay in touch with. I bet the next thing someone will say is I should use Google Reader. I think that's the right name. I need motivation to set that up. Yup I'm lacking some serious motivation. Course I'm also lacking motivation to get my website re-set so it functions better then it currently does.
Things I want to tell you about:
1. Tried sending digital photos to the Camera Corner (a camera store) near my work to see how good of quality they would print out (after numerous FAIL's with Wal-Greens) and lo and behold the photos are excellent. I printed off 9 photos, split in 2 sizes, 5 x 7 and 8 x 10 and most are black/white (which i favor) and the others are in color. These photos are for my friend who is moving on Saturday to be an RN :)
2. I'm going to 2 going away parties, one tomorrow for my friend the RN and the other for a co-worker who is headed to Florida to go to University. I don't know which party I'm more looking forward to.
3. I would probably consider doing cash for clunkers if they didn't junk the cars since my car needs a few things fixed on it...but I doubt I'll ever get around to fixing them. Like the crack across my windshield and the rear wiper on the back window, and the place someone keyed me on the passenger side, and oh yes, the dent in my back bumper that someone did and didn't tell me about.
4. Right now I have a microwave, toaster, iron, printer and wireless router in my car for my friend because I wanted to help her save money..and my car is partially packed now for Saturdays moving day.
I think this is all I have energy to type about right now...